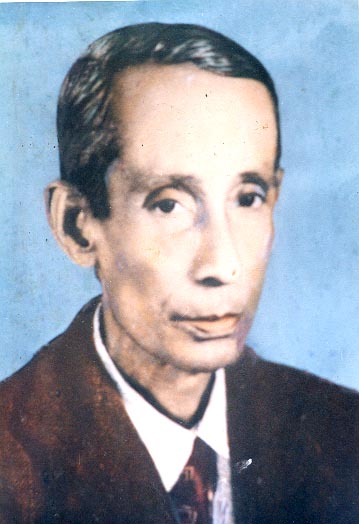 Kumud Chandra Bordoloi
Span of life
From November 1885 to 31st December 1975
Place of birth : North Guwahati ;
Dist - Kamrup ;
State - Assam(India)
Family Introduction
His mother Indumati Devi was the grand daughter of famous Sonamoua Harakanta Mazindar Baruah who had written a number of notes on the culture and history of Assam at that time. His father was Lalit Ch Bordoloi who was the brother of Raibahadur Madhab Ch Bordoloi and Karmavir Nabin Ch Bordoloi, the great freedom fighter of Assam.
Education
He did his Primary Education at North Guwahati and School education at Cotton Collegiate H E School from where he passed Matriculation Examination (then Entrance Examination) in 1916 under the Calcutta University securing 1st division. Graduated from Cotton College in Arts in 1920 and then obtained Bachelor of Teaching (B T) from Dacca University during 1926-27. He was a member of Red Cross Society and received training for Scout Instructor in 1925 at Taligange, Calcutta. He attended a Workshop on Geography at Calcutta University and an another workshop on writing of books on Adult Neo-literateur after his retirement.
Service life
Spent his whole service life in the pursuit of imparting education to students. He retired from service as the Headmaster of Mangaldai H E School, Mangaldai in 1956. Initially he joined as an Asstt Teacher in A K Institution, North Guwahati then he joined in Govt School. He also rendered services in various govt schools in Goalpara, North Lakhimpur, Sibsagar, Jorhat and also in Cotton Collegiate School, Guwahati.
After retirement he became the Headmaster of Kamakhya H E School and also rendered services to a remote school at Marigaon in Nowgoan District for sometime.
His interest
Kumud Ch Bordoloi was very much fond of music. He could play Harmonium, Violin, Sitar, Vina and Tabla. Above all he was partucularly interested in reading books and in wrinting. He wrote a number of books of different tastes.
Literally works
Kumud Ch Bordoloi wrote a number of books. The published books were as follows :-
1. BORAGI
(a social drama published in 1954)

2. PUJAR GALPA (A collection of short stories published in 1954)

3. SUSTHA SABAL GAONKHANI MOR
(Published by Social Education Deptt. Govt of Assam in 1958 and awarded
National Award for literature on Neo-literateur)

4. BHOLA BAPUR TINI SISWA
(wrote especially for Adult Neo-literateur)

5. SON KANAR PRITHIBI KHAN
(An imaginary aerial journey around the world with its description
wrote mainly for children)

6. DESHAT KOI MOMAI DANGAR NAHAY
(Wrote for children)

7. SADR-AMI-NOR-ATMA-JI-BA-NI
(An autobiography of Harakanta Sarma Barua Sadar-amin -edited and published with the help of Publication Baord, Assam) Note : "Harakanta" was a spectator of the last phase of Ahom supremacy as well as of the foundation and consolidation of British power in Assam. In front of his eyes the fair valley of the Brahmaputra was devasted by the blood-thirsty hordes of Mingimaha Bandula. The invaders were ousted by the powerful Britishers and peace was established in the state. The administration of India was transferred from the hands of East India Company to the Crown and ultimately it was placed under the control of a Chief Commissioner. Harakanta saw all these series of changes. He came in contact with the people of the older regime as well as of the new, and thus became a most competent authority on the order which had passed away and the one which had come as sequel.
8. PURANI ASAMAR KHEL DHEMALI
A description of rules of the games of ancient Assam)
9. SRI KRISHNAR JANMASTAMIR NAM WITH RHYTHAMS
A description of rules of the games of ancient Assam)

1. MOR GEET ARU KABITA
(My songs and poems)
Societal
Kumud Chandra Bordoloi was the foundar member of "Auni-Ati-Lilakanta Sanskrit Tol" an institution for Sanskrit education which was established in North Guwahati with the blessings of "Sri Sri Auni-Ati-Satradhikar Sri Hem Chandra Goswami". He was the first honorary teacher of this Sanskrit Tol. He actively associated himself in establishing North Guwahati College and the Pragjyotishpur Kala Parishad at North Guwahati. He had been the President for a number of times of Jayram Boliram Namghar of Madhyam Khanda of North Guwahati.