Sri Khagendra Nath Lekharu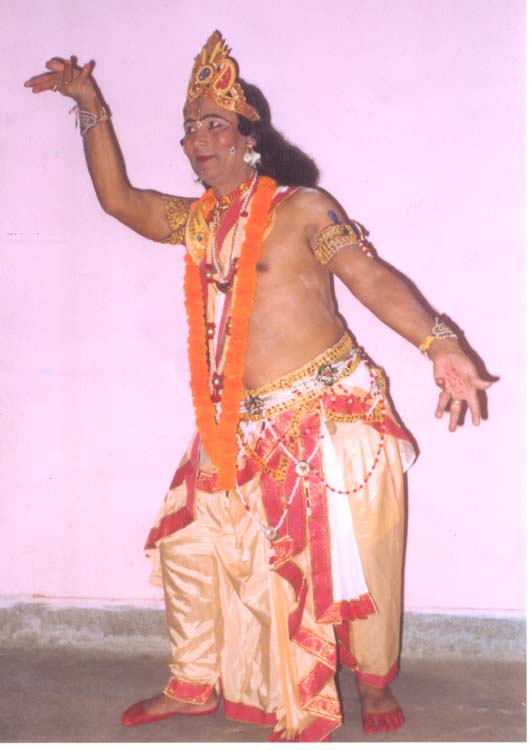 Sri Khagendra Nath Lekharu, a Majimdar of Auniati Satra, Majuli, the great river island of the river Brahmaputra and the abode of Assamese Cultural heritage, is an exponent of Assamese Satriya Dances. Born in 1943 in a small hamlet called Pomua gaon of Majuli, Sri Lekharu was taken to Auniati Satra at a tender age to be brought up in Satriya environment. There he started his formal education by remaining with Purna Kanta Pathak of the satra. But he cut short his academic career at Ninenth Standard to devote himself fully to the Satriya Education System. He soon acquired mastery over a number of Satriya dance forms like Natuwa, Mati Akhara, Sali, Sutradhar, Jhumura, Apsara, etc. and he earned a special artistry in the dance form "Dashsavatar" so much so that he has still been, even at his late 60's, one of the outstanding Satriya dance performers of the old heritage dances like "Dashavatar Nitriya" and other Satriya dance forms. He is one of the pioneer of performing "Dashavatar Nitriya" on the basis of Jaidev's 'Geeta Govinda'. Sri Lekharu performed innumerable stage shows in both and outside the state and earned great laurels. Besides being a dance mastero, Sri Lekharu also has a flare for writing and occasionally contribute to news papers and magazines. He also wrote several books on Satriya culture. Some of his published works include the titles like Satra Aru Samaj and Guru Vani. At one time he came to recognised as the Principal Gayan of the Satra. Some of the Bhakti Geeti (Religious song) sang by Sri Khagen Lekharu repeatedly broadcast through the All India Radio Station of both Dibrugarh and Guwahati respectively. Side by side Sri Lekharu has been a successful actor and played his roles very perfectly in several stage drama and bhaona for which he was awarded with silver and gold medals.
Biodata
1. Name : SRI KHAGENDRA NATH LEKHARU
2. Father's name : Sri Mahendra Nath Lekharu Village Head
3. Address : P.O : Auniati Satra
Majuli(Assam) India
PIN : 785 106
Rly Stn. : Jorhat-Moriani Air Stn : Rowriah (Jorhat)
Police Stn.: Kamalabari (Majuli)
4. Date of birth : March 01, 1943
5. Occupation : Majindar of Auniati Satra
6. Publications : Book (i) Satra Aru Samaj (ii) Guru Vani
Articles - a number of articles published in different magazines, dailies and other papers.
7. Notable performances :
(i)Performed 'Dashavatar Nitriya' in the auditorium of National Museum, Delhi during November, 2004.
(ii)Performed Satriya Dances at the Sankardev Kala Khestra, Guwahati, Assam. Performed Satriya Dances at the Rabindra Bhavan, and Lakhi Ram Baruah Sadan, Guwahat, Assam.
(iii)Performed Satriya Dances at the Inaugural function of Unnayan Bhavan, Jorhat where Hon'ble Chief Minister of Assam was present. And performed in many functions in and around the state.
8. Honours & Awards :
Awarded Gold and Silver Medals for best performances of 'Dashavatar Nitriya' and 'Sutradhar Nitriya' at a function held at the Guwahati Branch of Auniati Satra.
(North Guwahati)
(ii)Awarded Silver Medals for best performing the role of 'Harichandra' in the drama 'Raja Harichandrar Dan'. Notable that this drama was written by Satrdhikar Late Hemchandra Chandra Goswami of Auniati Satra.
(iii)Awarded a number of Cash awards for best performance both in dance and role played in dramas.